Browsing all articles in Interviews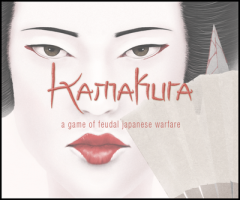 Board/card game projects on Kickstarter seem to be all the rage these days. Not that I'm complaining! The more games to get published the better, in my book. But because of this, I find myself needing to browse the Board and Card Game section on Kickstarter.com rather frequently, looking for something that might catch my attention. Kamakura was one that fit into that category. I'll let the guys over at Dyad Games describe the game for you:
Kamakura is a card game of feudal Japanese warfare in which you attempt to defeat an opponent by taking their territories before they take yours. This is done by carefully choosing combinations of weapons, soldiers, and arrow barrages to attack with while defending your own territories with a myriad of defensive techniques. Strategy, deception, and bravery will be your most valuable assets in the complex and varied game of Kamakura.
Since this was Dyad Games first venture into the analog gaming realm, I thought it might be nice to find out a little bit more about who they are and how they ended up creating a card game. Alex Montgomery was gracious enough to answer a few of my questions.
read more
Galen Ciscell…you probably haven't heard of him before, but you will very soon. He is the designer of an upcoming Z-Man Games release called Atlantis Rising and this has "hit" written all over it! Don't feel bad if you know nothing about this game, the only reason I'm aware of it is because of a quick but friendly email sent to me from Galen himself. Basically he noticed that I posted an article about a couple cooperative games and how I'm very fond of that genre. So he just thought I should take a peak at what he's come up with. And luckily for me, I obliged. Sure enough when I dug into the details about the game, it started checking many of those "things that I like in a game" boxes. Co-op, check; 2-6 players, check; beautiful artwork, check; engaging theme, check…well, you get the picture. Then it hit me, I don't think I'm the only one that would be interested in a game like this. So I asked if he would be willing to spend some time and answer a few questions about the process of designing the game. He was also gracious enough to pass along some never before seen artwork from the game.
Without further ado, here is my conversation with Galen Ciscell.
read more

Follow me on Twitter!
Subscribe!
Be the first to know when new content is added!
Click here to subscribe
Recent Articles
Most liked posts
Other Cool Stuff
More game sites
Board Game Geek
Board Game Reviews by Josh
Dice Hate Me
Giant Fire Breathing Robot
Little Metal Dog
MetaGames
The Dice Tower
The Game Aisle
The Gaming Gang
The Great Game Gate
Unboxed: The Board Game Blog