Browsing all articles from May, 2011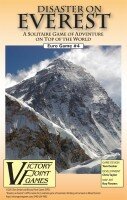 Prologue
Lately I haven't had much gaming time at the table with my wife, since we have a brand new baby girl to raise. Games that can be played solo a bit more interesting to me, now. This is where Disaster on Everest, a solitaire game that simulates a group of hikers scaling Mount Everest. In this review I'll let you know how the game plays and if it is an entertaining experience.

Follow me on Twitter!
Subscribe!
Be the first to know when new content is added!
Click here to subscribe
Recent Articles
Most liked posts
Other Cool Stuff
More game sites
Board Game Geek
Board Game Reviews by Josh
Dice Hate Me
Giant Fire Breathing Robot
Little Metal Dog
MetaGames
The Dice Tower
The Game Aisle
The Gaming Gang
The Great Game Gate
Unboxed: The Board Game Blog