Browsing all articles from May, 2011
Over the past few months I have certainly expanded my board game library, to the point where I had to sell off games that just weren't getting played. Since September I have added around 18 new games. Of those, I've only been able to play about 10. This makes me sad. For this series of articles I'm going to highlight 3 of those games that really stood out and have made me very happy to have in my collection.
Twilight Struggle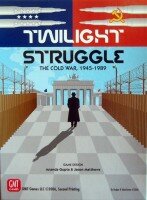 This game sat in my ThoughtHammer cart for what seemed like forever, since I didn't get in on the P500 deal GMT had. Normally this wouldn't be the type of game I would be wanting to buy because of a couple reasons. First, the length of play is reason enough to scare of the wife, but secondly, the theme is just not something that would initially grab her. Luckily a couple of my gaming buddies mentioned that they would be very interested in playing. There was reason enough to pick it up!
After reading through the rulebook I was amazed how simple the game system was. Each player gets a hand full of cards, playing one at a time (usually), back and forth for however many turns there are in the current round. Obviously the complexity comes from what the actual cards do and how to best expand your influence throughout the world, but we're not talking about a Fantasy Flight level of complexity here. I would call it brilliantly simple.
Obviously being our first game we wouldn't be making optimal moves, but after the first few turns we were moving right along without having to reference the rulebook more than once or twice. I played as the US, after reading that new players should be the USSR (although I've read arguments for both sides since then). About halfway through the game I was really starting to see how balanced the two sides were. Most of my attempts to secure the Middle East were easily thwarted by the Soviets, but I was easily able to take control of South East Asia and South America. Africa, as you would expect, was a hotbed for strife. End the end I just had too much influence throughout the world and it was a convincing victory for the U S of A!
This is one of those games that sticks with you for days after you played. "I could have increased my influence in West Germany, which would have given me a foothold to get into the Middle East, which I could have used to gain control of Africa…" I simply cannot wait to play again and again and then again after that!
---
My thoughts on Flash Point: Fire Rescue and Ascending Empires will be coming soon…
If you have been loyal enough to keep checking this site, you might have noticed that the updates have completely stopped since September. There are many reasons for this, the biggest being that October was pretty much dominated by my wedding and honeymoon. During this hiatus I have been able to play a lot of game, some that were really great! So what I'm going to try and do over the next couple months is give brief recaps on the games that I've played, rather than full reviews. Hopefully this will get me back in the swing of things for the beginning of 2012.
Look for more content from The Noble Gamer coming soon…
Thank you to all my loyal followers!

Follow me on Twitter!
Subscribe!
Be the first to know when new content is added!
Click here to subscribe
Recent Articles
Most liked posts
Other Cool Stuff
More game sites
Board Game Geek
Board Game Reviews by Josh
Dice Hate Me
Giant Fire Breathing Robot
Little Metal Dog
MetaGames
The Dice Tower
The Game Aisle
The Gaming Gang
The Great Game Gate
Unboxed: The Board Game Blog