Browsing all articles from May, 2011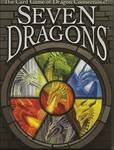 One of the main differences between when I play games with my fiancee and when I play with my gaming group is that she loves to play the same game back to back to back to… This is something that never happens with the group, most likely because the games we play as a group are much more in depth and generally take much longer to "reset" in order to play a new game.
Just the other night Lisa and I played Zombie Dice about 4 times in a row followed by Seven Dragons about 6 times. Usually I get the "let's play again" request because I beat her and she just can't put the game away after a loss. Quite the competitive one, she is!
Do you find yourself wanting to play a game back to back or do you & your group like to change things up after one play through?
Post your thoughts here, Twitter (@ianoble) or Google+ (ianoble).
It seems as if 2011 has been a banner year in the board/card game hobby. Just looking at the number of quality games that have been released in the first 6 months of the year, you could say this has been one of the very best years ever. And with still a whole half of year left, things don't appear to be slowing down.
For me the second half of the year is going to bring some big additions to my collection. Some games from new or very small publishers (thanks to Kickstarter.com), some games from the publishers we all know & love and a few reprints that I've been wanting to get my hands on for a long time. All in all, this is going to be one heck of a happy ending to 2011!
Here are all the games I have already paid for and will, hopefully, be able to add to my collection by the end of this year.

Follow me on Twitter!
Subscribe!
Be the first to know when new content is added!
Click here to subscribe
Recent Articles
Most liked posts
Other Cool Stuff
More game sites
Board Game Geek
Board Game Reviews by Josh
Dice Hate Me
Giant Fire Breathing Robot
Little Metal Dog
MetaGames
The Dice Tower
The Game Aisle
The Gaming Gang
The Great Game Gate
Unboxed: The Board Game Blog