Day 1: Where are we and what is this all about?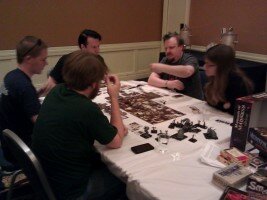 Without ever going to a board game convention I, naturally, didn't know what to expect. Weeks before it started I went through the events catalog and marked down a bunch of events, listed on the Kublacon website, that I wanted to take part in. When we first arrived it was pretty obvious that the heart of the convention was just finding an open table, some friends (or strangers) and playing whatever game you happened to have with you at the time. By the time we arrived, at 11:00AM on Saturday, just about every table designated for open gaming was full of people rolling dice, flicking discs or shuffling cards.

The first couple hours we spent just walking around, checking out the sites and getting the lay of the land. During that time, I was heckled by one GFBRobot (or Andrew in real life) while going up an escalator. Of course I had no idea who the heck he was…until he chuckled and introduced himself.

We really couldn't get involved with any games since I had my friend sign me up for a Dominion tournament at 1:00PM. In hindsight I probably should have skipped it since it was pretty disorganized and not all that fun. A good number of people who were on the list didn't even show up and they decided to change the structure of the tournament at the last minute. So, unless you won your game, it was one go 'round with the base setup (who plays with just the base setup anymore??) and done. No, I didn't win…in fact I was actually beaten by a 7 year old. He was 7 going on 25, seemingly, if that makes it any better. During my Dominioning Lisa, my friend and his son were able to squeeze in a game of Samurai. They looked to be have a good time with the Knizia classic.
Afterwards we were left on our own and decided it would be a good time to take advantage of the open table space. We got out BattleCON and went at it. Apparently being away from home doesn't slow down Lisa's gaming prowess as she crushed me. Oh well, this weekend wasn't about winning it was about the games! As if it was meant to be, as soon as we were finished I received an email from my friend asking if I would like to be the 8th player in an epic 8 player Heroscape game. Not having played Heroscape before I was a bit reluctant, but this is Kublacon baby! What better time to learn than now? The only bad part was that the game was supposed to last over 3 hours, which left Lisa out in the cold. Being a good sport she didn't mind and found herself enjoying a little R&R. I, on the other hand, was left to defend myself against Wyverns, giant flys, some fella named Drake and a host of all sorts of other menacing creatures! For not having played ever before, I was pretty happy with how long I stayed in the game. After the ice melted the two 4 players games merged together and our side found out that we were in for a tough fight. All in all I had a really great time and was glad that I got roped into it.

After that was over, we were just in time to hear Aldie from BoardGameGeek.com speak about the state of BGG. Afterwards we were able to get an early look at the new site redesign and speak briefly to Aldie. Kinda cool to be able to meet one of the most influential people on the board game hobby. After picking up Lisa from our room, so we could head to dinner, we happened to run into Seth Jaffe from Tasty Minstrel games in the elevator…although we didn't know it at the time. He asked us what the images on our shirts were and we told him they were the logo for my site. He told me he knew a board game publisher and maybe we could work something out in the future regarding getting games reviewed. He also asked if I wanted to check out some prototypes, of course I said yes, but that would have to wait for Sunday. Exciting, my first real perk of running this site! After dinner my friend and I joined a No Limit Hold'em tournament. Wasn't the greatest tournament every, but I love playing poker so I had a good time. We both happened to bust at the same time, which turned out to be a good thing since it meant there was still time to get a couple more games in before calling it a night! We couldn't convince the girls to join us, so we just got in a game Pergamon and Blue Moon (a game I've been wanting to learn), ending just before midnight. It was a good first day, that's for sure!
Day 2: Nothing but new games!
Since day 1 was all about getting our bearings and just figuring out where everything was, day 2 was going to be about gaming! In particular, playing new games. Since I figured my buddy GeekInsight might be interested in seeing a few prototypes, I met up with him in the morning and we went to find Seth. The first game he showed us was Jab: Real-Time boxing. Very interested boxing themed card game where dexterity is a huge part of being successful. You're basically playing cards from your two decks (left & right hand) on the other players person cards (head, left body & right body). There are ways to get combinations, haymakers, as well as blocking and counter punching. We were just spectators as he taught 2 other guys the game, but it seemed like they had a pretty good time.
Next up was a prototype that didn't have a name yet, but he was playing with Exibit This! or Exibit: Artifacts Through the Ages. The basic premise is that you are trying to buy artifacts with the hopes that they will be worth more than you payed for them once you put them in an exibit. This is done with a really clever auction mechanic and colored dice. They said it had elements of Liar's Dice, but without ever playing Liars Dice I just took their word for it. The 6 columns on the score sheet all corresponded to a color on the dice. Players start out with 3 dice. Each round they are rolled secretly and then each player bids on what they think the count of the color will be in hopes of winning artifacts. Because you only get 2 bid markers, you might have to sacrafice one artifact for one that is of less help to you. There is obviously a bit more to the game, but maybe if it gets close to being published I'll be able to write a proper article about it.
Our next game was all about dice. The game is called Dice Works (or Dice Werx). Every turn a large number of dice are rolled, then the players start grabbing as many as they can, with only one hand. The goal is to match combinations on your board in order to build some sort of machine. Unfortunately I didn't get a photo of the board, because explaining it is a little weird without seeing where the dice go. It was pretty fun, but not really my sort of game.
Then it was time for the big daddy:
Eminent Domain
. I've been kicking myself for missing the Kickstarter preorder, especially after hearing that their first
two
print runs have already sold out! Today none of that mattered because I was about to play a prototype copy. Having briefly looked through the rules, I had some idea what the game was about. Let me tell you, the comparisons to
Dominion
don't really hold up. I would say it is more closer to
San Juan
or
Puerto Rico
because each player must select a role each turn, which allows the other players to "follow" (or draw a card). So this brings in the that whole "do I choose a role that would really help me, but it would also help everyone else or do I pick something that only I can take advantage of with the hopes that one of the other players will select that other role?" decision making. I have to admit, I was not getting it the first few turns, but after colonizing a few planets which gave me the ability to produce resources (the way to score points), I was starting to get into the flow. This was just the learning game, too! We didn't even include the Research role which allows players to take advantage of more powerful roles. In the end I came out victorious, so apparently I understood it enough. Hopefully my order with ThoughtHammer was included in the second print run because I cannot wait to get this game. That was all the time we had with Seth, but I was very happy to see some new games that might be hitting the shelves soon along with being asked to give him feedback to help improve the games.
After the flurry of new games I was ready to get some food and chill for a bit. A little later in the day I met up with Andrew (GFBRobot) and we had a play through of some adventure style card game. I can't remember the name, but it was a good time. We made plans to meetup and play a little Mansions of Madness later that night.
When we found where Andrew and a couple of his friends started setting up Mansions of Madness we had a seat and joined the group of investigators looking to search the mansion for clues about a mysterious desease that struck our client's(?) child. Explaination was simple and the theme seemed to fit pretty well. With 4 investigators we were able to break up into 2 groups and take different wings of the house. This proved to be pretty important since each group had one character that was in charge of solving puzzles and one that would be the muscle, in case trouble showed up…and it did! The first round of zombies and a maniac wasn't so bad. We cleaned things up in a just a couple of turns. But the real trouble was towards the end of the game, after we discovered all the clues. It felt as if a helicopter dropped off a case full of zombies. Luckily for us we collected some pretty good items during our exploration, so fending off the undead wasn't all that difficult. We all made a run for the exit and burned the house down as we left. Mission accomplished! The only caveat was that we might have messed up one little rule that would have made the investigators a tiny bit more powerful. Since it was all in good fun, we ended up calling it a draw.
Keeping with the creepy zombie theme, Lisa wanted to take a walk over to the LARP tent and take a peak into that world. Well, I have to say that was quite an experience. I basically felt as if I walked into a bad night club. People in costumes milling around while light techno plays in the background of a large, poorly lit outdoor tent. *Shrug*, to each their own. I would rather be rolling dice and shuffling cards. Once we finished that bizarre experience, we decided we had enough for one day. Day 2 was another resounded success!
Day 3: One mission, play Through the Ages.
As our third and final day arrived I was feeling pretty good, but I knew that we wouldn't have time to get many more games in. My friend and I really wanted to sit down to a game of Through the Ages, since many of our plays these days are online. Luckily our schedules synced up after he decided to not do the Nexus Ops tournament. Unfortunately Lisa was not all that excited about learning this very complex game and we weren't even sure if we had enough time to be able to teach here anyway. Once again she was a very good sport and sat by my side reading her book and taking in the sites as we played our game. Each time I play TTA I love it more and more. So many interesting and tough decisions, such a solid game system and plays well with any number of players. I was very happy that was the final game to cap off a tremendous time at Kublacon. We will certainly be making this a yearly occasion.
If you're interested in picking up any of the games I wrote about, check out our friends at FunAgain.com! Free shipping at $70 beats just about every other online game store.
2 Comments to "Game Convention Report: Kublacon 2011"
Post comment
You must be logged in to post a comment.